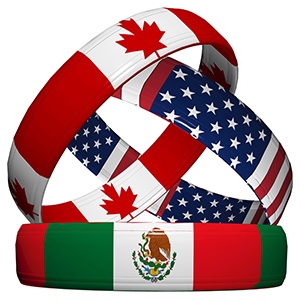 The second round of the NAFTA Modernization negotiations concluded on September 5th in Mexico City. Although progress was declared by the three parties, they have chosen to postpone discussions of major sticking points. The second round of negotiations included tabling two dozen drafts for a modernized NAFTA agreement.
Chief U.S. negotiator and US Trade Representative Ambassador Robert Lighthizer, concluded the second round on a conciliatory note. In his closing statement, Lighthizer indicated that the United States, Mexico, and Canada "found mutual agreement on many important issues."
Likewise, Canadian Foreign Affairs Minister, Chrystia Freeland, has acknowledged the three parties have begun to make progress by studying what their counterparts would like in the renegotiated text of the Agreement. She said a negotiation is "…about figuring out what you are trying to achieve [and] what your objectives are".
So far the negotiations avoided dealing with the most complex issues such as labor laws, rules of origin and market access. Instead, the discussions focused on the less controversial sticking points. The next round of negotiations just occured September 23-27 in Ottawa, Canada. As of now, Ambassador Lighthizer suggested that "our work continues at a record pace."
As a revised NAFTA enters into force, global companies will need to leverage the technology found in Free Trade Agreement management software solutions like Amber Road to support the process. The platform needs to include all of the current trade agreements to allow identification and qualification of goods by using a global trade content database which contains the rules of origin, product classifications and duties and taxes for the major preferential trade programs.
Utilizing a best-of-bred technology solution can help open up new markets for your company by simplifying the compliance and qualification processes. With new Free Trade Agreements on the horizon or just passed around the world, global trade compliance becomes key to the opportunities ahead.
References:
https://ustr.gov/about-us/policy-offices/press-office/press-releases/2017/september/closing-statement-ustr-robert
https://ustr.gov/about-us/policy-offices/press-office/press-releases/2017/september/trilateral-statement-conclusion-0
http://www.huffingtonpost.ca/2017/09/05/nafta-negotiations-second-round-of-talks-ends-with-3-countries-saying-some-progress-made_a_23197969/
This post was published on September 27, 2017 and updated on September 27, 2017.