It's been far from a dull year in China trade. In the early months of 2018, the 13th National People's Congress of China began reformation of many Chinese governmental agencies, with a large amount of emphasis placed on import and export. As trade war talks took center-stage, the dramatic regulatory changes in play became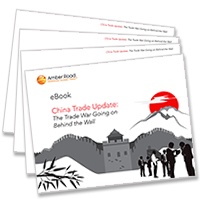 overshadowed.
Now, more than ever, companies must consider how to react to the developments in regulatory changes and prepare for future adjustments on the horizon. Organizations across the globe will continue to feel the effects throughout the global trade environment. With a revision of 71 regulations within customs supervision, trade compliance programs have undergone some critical alterations.
Amber Road's new eBook, China Trade Update: The Trade War Going on Behind the Wall, explores the recent dramatic regulatory modifications in China and how they affect global trade. Topics include:
Integration between China Inspection Quarantine (CIQ) and China customs agencies
The new China Customs Commodity HS Code
Changes in AEO certification and self-compliance programs
Helping to automate import and export processes for China operations, Amber Road's China Trade Management solution allows companies to navigate trade compliance concerns beyond the wall. This solution enables organizations to meet China's compliance requirements for General and Processing trade in tandem with a reduction in costs and improvements in supply chain efficiencies. Download this eBook today!
This post was published on December 21, 2018 and updated on December 21, 2018.