As a world leader in distribution, manufacturing, and integration of electronic connectors and cable assemblies for the past 73 years, PEI-Genesis possesses a highly evolved system for large customized solutions. They are unparalleled in their ability to match the extensive, high-mix, low-volume, value-added capability. With the unique position of being the only value-add connector distributor positioned in North America, Europe, and Asia, PEI-Genesis faced quite a challenge to maintain their customer commitments with speed.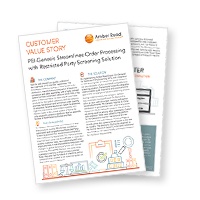 It was vital for PEI-Genesis to grow beyond the confines of manual screening processes. Through Amber Road's Export On-Demand for Restricted Party Screening (RPS) all of their locations are now equipped with an automated and comprehensive screening solution. PEI-Genesis is now enabled to ensure compliance with multi-country regulations while streamlining order processing.
Amber Road's customer value story, PEI-Genesis Streamlines Order Processing with Restricted Party Screening Solution, illustrates the journey that PEI-Genesis took in evolving their manual screening processes through an automated solution. Results included:
Elimination of separate, manual processes
Reduction in enterprise-wide risk of order delays
New transactional screen for drop-ship orders
Amber Road's Restricted Party Screening solution provides a secure, comprehensive method to automate the screening process and connect businesses to their customers faster. It enables exporters to quickly screen customers, suppliers, and other trading partners against over 600 restricted party lists from government institutions worldwide. Download this customer value story today and learn how your organization can break the chains of manual processes!
This post was published on February 25, 2019 and updated on February 25, 2019.