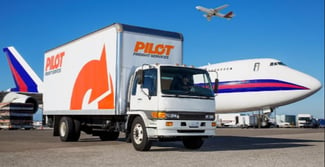 In an era of heightened security, determining whether individuals, companies or organizations are restricted from conducting trade is essential. Exporters are responsible for ensuring that they are compliant with changing government regulations, and that their goods are not being sold to undesirable entities.
With that in mind, Pilot Freight Services, a worldwide provider of transportation and logistics services, has gone live with Amber Road's Export On-Demand solution to automate the restricted party screening (RPS) process. Now, their shippers are safeguarded by Amber Road's industry-leading database of 590 restricted party lists.
Amber Road's Export On-Demand solution provides a secure, comprehensive method to automate the screening and hold resolution process. It enables international shippers to quickly screen customers, suppliers and other trading partners against over 590 lists from government institutions worldwide. In today's fluid and ever-changing environment, manually determining whether a partner, customer or contact is designated a restricted party is time-consuming, inefficient, and prone to errors.
"Amber Road was selected because it is the gold standard in global trade compliance, so this partnership brings Pilot's compliance program to the next level," said Chris Ashiotes, Pilot's VP, General Counsel & Secretary. "As Pilot continues to grow, the company needs a solution that reduces risk by driving educated decision-making, increases efficiency within its team, and facilitates the continued development of its overall global trade compliance program."
The new system will enable Pilot Freight Services to perform systematic and thorough restricted party screening on transactions received on behalf of its customers. Amber Road streamlines the screening process to check whether a trading partner has been placed on any official denied persons or illegal trans-shipper list, blocked from import or export transactions, or sanctioned by a government for illegal acts such as involvement in international terrorism, narcotics trafficking, money laundering or weapons proliferation.
The solution uses intelligent algorithms and business rules that help increase the accuracy of matches. The database is highly maintained by Amber Road's team of trade content experts. Updates are usually made within 24 hours of any changes or additions and pushed out to customers through the cloud platform.
"Pilot's operations team has already realized the benefits from using the solution, including increased productivity for better managing restricted party screening by leveraging automation," said John Hill, Pilot's President and Chief Commercial Officer. "We are now able to greatly enhance our ability to safeguard our customers and shield the company against potential compliance violations."
"The risks of non-compliance that these organizations face include substantial fines, imprisonment, and brand damage," said Ty Bordner, SVP Marketing and Business Development, Amber Road. "The quality of the data, in addition to the functionality in our platform, provides an export management solution that can't be matched in the industry. Important customers like Pilot prove the strength in all of our offerings."
Read the full press release here. Then, learn how another customer, Allied Electronics, automated its trade compliance operations to grow alongside its burgeoning global sales.

This post was published on May 8, 2018 and updated on May 8, 2018.