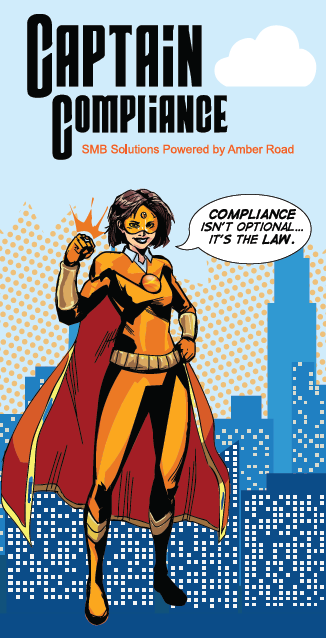 Amber Road announced today the release of a focused solution of its industry-proven export compliance software for universities and research groups - and it's all powered by the newest SMB superhero, Captain Compliance.
Amber Road's Export On-Demand University & Research Edition is specifically designed to help colleges or universities with a scientific research program, foreign visiting researchers, foreign students, international research collaborations and overseas campuses manage their export and deemed export compliance programs, license requirements and product classification. The cloud-based solution helps organizations improve operational efficiency, enhance regulatory compliance, and reduce export risks that colleges and universities with scientific research programs face.
Captain Compliance helps universities and research organizations battle old enemies General Negligence and Private Dawdle - because compliance isn't optional, it's the law. Learn more about the adventures of Captain Compliance on our new site!
"The move to Amber Road has been a positive change for our institution, mainly because of the reduction in false positive hits while conducting restricted party screening," said Tanta Myles, Director & Research Compliance Officer at The University of Alabama. "The new university edition is a game-changer for higher education export compliance programs given that the solution is custom built for our needs."