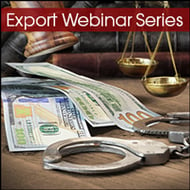 To comply or not to comply, that is the question often faced by companies in regards to their export compliance programs. The amount of political upheaval over the past year will have significant impact on the world of global trade management for years to come. With more political upheaval, financial stress, and regulatory change on the horizon, is your company prepared for the changes to come?
Join Amber Road for our next installment in our export webinar series, The Cost of Non-Compliance live on Wednesday, April 26th, at 2:00 PM EDT. Join Gary Barraco, Director of Global Product Marketing, as he breaks down the typical justifications companies use to avoid implementing an automated trade compliance program - and the repercussions they often face. Key topics will include:
Cost components associated with compliance failure
Steps to fix a non-compliant product or good
How automation can streamline your compliance processes
Join us for this webinar and learn more about the cost of non-compliance!
This post was published on April 20, 2017 and updated on April 20, 2017.