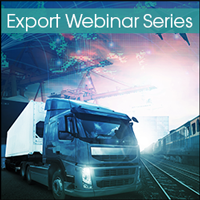 As companies like yours look to increase revenues and expand into rewarding foreign markets, uncertainties and complexities await. These lurking uncertainties are the primary challenges and complications with export compliance. Rapid growth for your company often means entering new fertile markets, expanding production, and reaching new customers. All of these factors bring immeasurable pressure to your trade compliance team.
Join Amber Road for our export series webinar Understanding the Key Elements of Exporting live on Tuesday, April 11th, at 2:00 PM EDT. Watch as Scott Parker, explains how you as an exporter can ensure compliance to eliminate cost and risk by automating your export process. Tune in as we cover the following:
Ensure ongoing compliance with restricted party screening regulations
Determine and manage classification codes and export licenses across multiple countries
Generate efficient export documents and ACE filings
Maintain a comprehensive audit trail
Learn how to leverage technology to ensure your company is staying compliant and register for this webinar today!
This post was published on April 7, 2017 and updated on April 13, 2017.