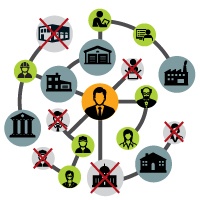 As companies begin to expand and increase their exports, their risk profile increases exponentially. Supply chains are dynamic, so the number of contacts your organization interacts with changes constantly. If you are not actively screening your customers and ALL of the parties in between, you could already be at export compliance risk. Would you be willing to risk paying high fines, jeopardizing your company's reputation, or even your personal freedom because of your organization's current screening processes?
Join Amber Road on Thursday, October 26, at 2pm EDT for our webinar You KNOW Your Customer: But What About ALL of the Parties in Between You? Learn how you can know your customer better, along with ALL of the parties in between, and evaluate your risk profile with the following questions:
Should I be screening the contact person at my customer, freight forwarder, customs broker, suppliers, manufacturers or vendors?
Should I be screening anything other than names?
Would screening an address return a match when a name did not?
Don't miss out on this interactive webinar regarding denied/restricted party screening best practices. Ensure your organization is routinely screening every party that could put your organization at risk - register now!

This post was published on October 20, 2017 and updated on November 10, 2017.