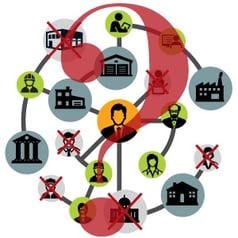 Last month, Amber Road broadcasted the webinar, You KNOW Your Customer: But What about ALL of the Parties in Between You? Our presenters, Steve Swanson, Director at Amber Road, and Steve Keighley, Solutions Consultant at Amber Road, received numerous questions throughout the webinar. Unfortunately, they did not have time to address them all during the live broadcast. We have compiled their answers into a Q&A document - here is a preview:
If I screen my address, as well as the name, will your system tell me if only the address is a match or do they both have to match in order to get a hit?
Absolutely, as mentioned in the webinar our application does in fact screen 4 full address lines, city, state/province, zip code and country against our lists. If there is a potential match for the address our application will intuitively direct you to the research data you need to review in order to make an informed decision of whether or not to ship to this address.
Should I also screen the contact people i work with at my customers?
To be 100% compliant you should screen all of the contact people at your customers that you are doing business with. It is also important to screen not only your contact people, but visitors, potential customers, vendors, suppliers, employees, etc.
What if i ship to multiple locations for the same customer? Do I meed to screen all of those addresses or just the main address?
Same as your contact people, you should also be screening all your valid ship to addresses or locations for your customers. Example: If your customer has 10 ship to locations, then you should be screening al 10 locations. There could be an instance where 1/10 of those addresses could be a potential match.
What about visitors into my office? Should I screen those people?
Yes, you should be screening visitors coming into your office. You just never know who could be entering your facility and we actually are seeing a trend where more and more companies are screening their visitors.
This post was published on November 2, 2017 and updated on November 27, 2017.