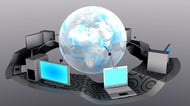 Are you automating and integrating your sourcing and global trade activities? There is an undeniable link between clearing trade compliance hurdles and the sourcing of goods, yet many companies still view these processes as completely isolated functions. Never before has it been more important for companies to automate their export compliance, logistics, and transportation management processes to achieve sourcing optimization.
Please join American Shipper and Amber Road for our complimentary webinar, Making Dollars and Sense of Sourcing and Global Trade Automation, broadcasting live Wednesday, August 5, 2015 at 2:00PM EDT. This one-hour discussion will delve into how companies ought to begin thinking about automating and integrating their sourcing and global trade activities.
Key topics for discussion include:
How risk management fits into modern supply chains
The importance of tying together sourcing with global trade management
How to measure the ROI of automating sourcing and compliance functions
Pertinent business cases
Expert panelists include:
Gary Barraco, senior director, Supply Chain Solutions, Amber Road
Moderated by Eric Johnson, research director & IT editor, American Shipper

Interested in learning more about the importance of automated trade compliance and how to prepar your company for the vendor selection process? Download American Shippers 2015 GTM Landscape report below!